Marques Ogden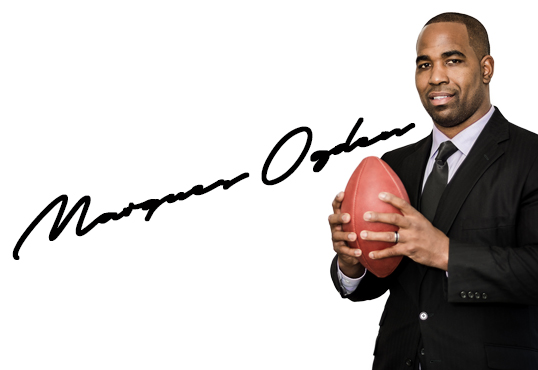 Education
Bachelor of Science – Finance – Howard University
Skills & Industry Experience
Former NFL Athlete
Motivational Speaking
NFL Player Transition Coaching
Commentating & Emcee
Best Selling Author
Growing up in a single parent home with a father that inspired perseverance and fairness, Marques Ogden learned how to define his values and set goals. Ogden attended Howard University from 1998-2002 where he played Division I football. He then followed his dream and his brother Jonathan's footsteps, eventually getting drafted into the NFL in 2003. Overall, he played for 5 years as an offensive lineman with the Titans, Bills, Ravens, and Jaguars. Even during the offseason, Ogden helped train football players in Europe, both physically and mentally.
Marques is a natural motivator! He currently travels the United States as a keynote speaker for major Fortune 500, 100, 50 and 20 companies, universities and communities organizations. Marques provides an array of coaching such as; executive coaching, corporate coaching, and transition coaching. He even provides brand building services.
The first thing I learned is that you have one chance to make a great first impression. Meaning if you're just hired on a job, you better know everything there is to know about that position before you walk in. if you're making mistakes and you're new in the company you are going to be out the door. Marques Ogden
Marques has been deemed a Subject Matter Expert, in the area of Leadership, by The United Service Organizations of North Carolina!
MARQUES OGDEN
CORPORATE TRAINING
When it comes to Marques ability to speak to audiences within the corporate world he can provide you with the needed resources when it comes to an array of topics. Those topics include; unleashing personal performance, leadership, defining life values, proper techniques for setting goals, financial literacy, teamwork, organizational structure, and life after sports.
BUSINESS
Marques Ogden can speak to audiences within the business industry and provide you with a ton of value that is important when it comes to growing and succeeding in business. A few topics that he focuses on; Impactful Employee Engagement, Growth Scaling, Goal Setting, Maximizing Results, Fortune 500 and 100 Companies, and how to run your business efficiently.
MOTIVATIONAL & INSPIRATIONAL
Marques has spoken in front of audiences for motivational and inspirational needs and focuses on members of churches, high schools, youths, colleges, universities, and also speaks about anti-bullying. With his ability to provide energy, Marques Ogden can revitalize your thoughts, change your thinking, and help you regenerate more positive thinking.
EXECUTIVE & CORPORATE 
Marques provides an approach to personal and professional development that is aimed at creating awareness, generating action, and facilitating learning and growth within your business. He focuses on improving performance by helping individuals to develop and sustain new perspectives, attitudes, skills, and behaviors.
BRANDING 
Effective branding is vital to business and marketing. With the ability to provide a visual to your customers, clients, and even employee's, companies are able to harness the power of personal branding to meet the needs when it comes to the emphasis on perceived visuals of your product or services.
TRANSITIONING
People often go through changes in life whether it is career changes or personal. Marques Ogden transition coaching will help NFL athletes, business owners, and simply you when it comes to life-changing events. Marques specializes in NFL player transitioning from the sport over to the business world.