Mark Moyer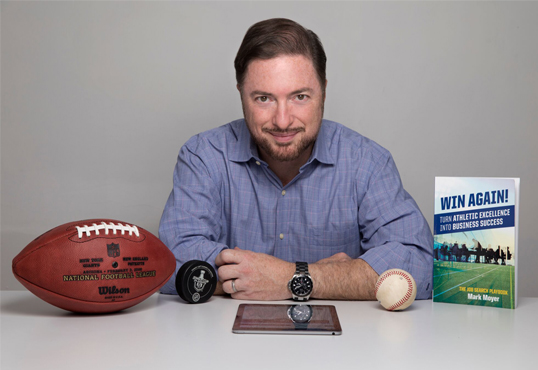 Education
Bachelor of Arts – Economics – Colgate University
Skills & Industry Experience
Career Coaching
Business Growth Strategies
Professional Development
Career Bootcamp Training
Athlete to Business Transition
Mark Moyer has worked with hundreds of athletes, entrepreneurs, and veterans over the past 20 years to guide them to their positions and help reach their full potential. As a result, after spending nearly two decades placing professionals as an executive recruiter, Mark knows what it takes to get hired in this competitive market. Mark also advises entrepreneurs on how to increase sales and market visibility. Always one to incorporate his interests into a balanced work life, Mark most recently leveraged my love of sports to create my WIN AGAIN playbook, of value not just for the athletes for whom it was originally designed, but anyone seeking to excel.
Mark provided veterans with the strategies and tactics to successfully find career opportunities…He is a patriot who has provided his 25 years of experience to help those who have sacrificed so much for our country Scott Wright, Wounded Warrior Project
Mark Moyer combines twenty-five years' experience in career coaching and recruiting with a love of sports to serve athletes transitioning into the business world. His experience allows him to think like a hiring manager while developing his clients' job-hunting strategies. Moyer is a frequent speaker and panelist at universities and career seminars. He lives in Manhattan with his wife and three children and enjoys playing ice hockey, softball, and golf as well as the guitar and piano.
MARK MOYER
CAREER TRANSITIONING
Mark can speak on a wide array of audiences on a variety of topics including addressing the difficulties that athletes and veterans face when leaving their sport or service. People often feel lost when transitioning from their sport or military service. Mark will help you make that transition over from on job to a highly rewarding, fulfilling career or entrepreneurial opportunity.
GROWTH STRATEGIES
Mark will provide you with key components and also help you and your company identify objectives that need to be focused on in order to bust out of that barrier that often keeps you or your company from growing. Mark will speak on areas like expanding your network to include senior-level key influencers and decision makers who will have a direct impact on your career growth. Positioning yourself as an authority, leveraging your background and skill sets.
ENTREPRENEURSHIP
Mark speaks on areas within the entrepreneurial world such as setting goals and focusing on how to develop detailed strategies to put you and your company over the top. Learn how to communicate most effectively with your contacts to get what you want. Learn how to best prepare for pitches and separate yourself from your competition. He will also speak on product strategies, keeping your customers loyal and supporting you, and more.
PROFESSIONAL ATHLETES
Mark will provide you with a win again mindset, which is a practical method for landing your dream job after the sport. You'll become a five-tool networker and a first-string interviewer, the kind of candidate decision-makers recognize as exactly what they need. Mark will help you determine how your on-the-field strengths translate into business capabilities. He will also help you identify your core skill sets to determine the best industries to go after.
CAREER ADVANCEMENT 
Mark can show you how to be seen in a more positive light by senior management, opening up the prospects for personal growth and promotions, adding to your skill set and market value—not just at your current firm, but anywhere you can maximize your value. He will help a true understanding of what you are currently doing, and how to articulate your greatest accomplishments. He will also help identify your goals and lay out a clear roadmap on how to achieve them.
ENTREPRENEURS 
Mark brings an objective point of view to what's most important in both your day-to-day operations and in the creation of long-term goals. He will help you discover what sets you apart. His business coaching solutions will increase your company's visibility, redesign your sales and marketing approach to capture new business, and allow you to focus on the most important aspects of your business. Mark will lay out specifics on your company goals, followed by a detailed business development strategy.